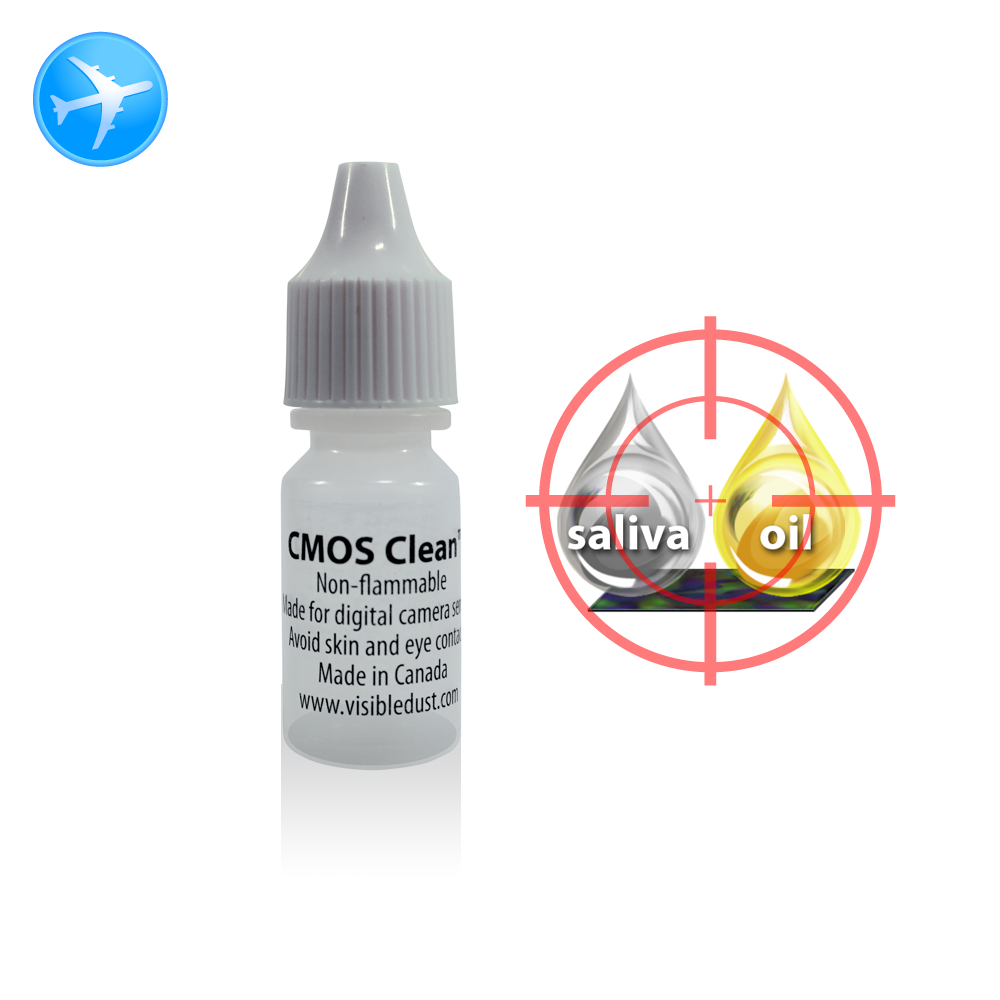 CMOS Clean™ liquid sensor cleaning solution
---
What's Inside
CMOS Clean™ liquid sensor cleaning solution (one bottle)
---
Key features:
Removes saliva and oil
Nonflammable (can be shipped by airplane)
---
To buy from Amazon Canada or USA click on the links below:

---
PRODUCT HIGHLIGHTS

Removes saliva and oil
Quickly evaporates
Residue free
Compatible with both DHAP Orange and MXD-100 Green swabs from VisibleDust
Non-flammable
Non-toxic
Non-hazardous
Can be shipped by airplane

CMOS Clean™ is a sensor-cleaning solution that removes saliva stains and oil from the sensitive surface of a digital camera sensor. CMOS Clean™ is a proprietary solvent blend for cold wipe application used in sensor cleaning procedures.

Saliva stains are the most common reason of the so-called "unknown stains" especially on the sensor of mirrorless cameras since it is located close to the opening. Saliva can come to the sensor from regular coughing, talking and even breathing. It is highly recommended to wear a mask when your camera sensor is exposed.

Alcohol doesn't effectively remove saliva and a variety other organic materials from the camera sensor surface which makes alcohol based sensor cleaning liquids useless in many cases.

CMOS Clean™ is a powerful solution that was created as a highly effective remover of organic, saliva as well as oil stains.

Along with many other advantages CMOS Clean™ is nontoxic, nonhazardous, and nonflammable which make it safe to ship by aircraft.

CMOS Clean™ is compatible with:

VisibleDust sensor cleaning swabs and solutions are calibrated to work together to produce optimal and safe results.
Please DO NOT USE alternative solutions with our swabs.

Refer to your camera's manual on how to expose the sensor.
Brush the sensor surface with Arctic Butterfly® Sensor Brush®. Alternatively, use Zee Pro™ or Zeeion® anti-static bulb blower to remove dry contaminants.
Add 3-4 drops of CMOS Clean™ on the fabric of MXD-100 Green or DHAP Orange Vswab™.
Quickly proceed to clean the sensor. If you delay cleaning for more than 30 seconds, reapply CMOS Clean™.
Using Vswab™, wipe across the sensor with gentle pressure once, in a single smooth motion. If it is necessary, turn Vswab over on the other side and repeat. Ensure you wipe in the same direction both times. Discard the swab after a single use.
Close the cap of CMOS Clean™, screwing the cap back on tightly.
Allow the sensor to dry out completely. If needed, use the Arctic Butterfly® Sensor Brush® for complete cleaning.
Proceed with checking the image.
Repeat if necessary.